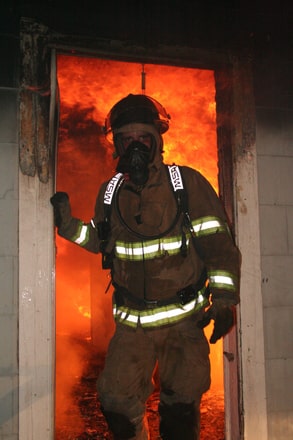 Early this morning, firefighters responded to a house fire in Glendale. the owner, a unidentified woman, was rescued from her second story bedroom. the blaze continued to ravish the rest of the house and a nearby parked car. the victim and her three rescuers were transported to a nearby hospital with minor injuries. the woman's husband was out of town on a business trip at the time of the incident.
During the time of the blaze, the house's roof collapsed. Flames erupted from a car that was parked in the driveway. Firefighters doused the vehicle for more than five minutes before they decided to use power tools in order to pry open the hood of the car before fully extinguishing the fire.
The cause of the fire is not known at this time. It looks like the Glendale Police and fire departments have called in an arson investigator to the location and are at the beginning stages of launching an official investigation. We will keep you updated as this case continues to unfold.
We previously did an article on fire safety and though it is still unclear what started this fire, we encourage everyone to be cautious – especially around this time of year with Christmas trees and lights, and candles. Also, make sure that your fire detectors are working properly during this season.
Suffering from Injuries? Contact a San Clemente Accident Attorney Today!
If you have been injured in a fire that was due to negligent detectors, please feel free to contact us to discuss your case. Consultations are free. A San Clemente accident attorney can help you through this difficult time. We are here to make sure you get the settlement you deserve to recover from your injuries.