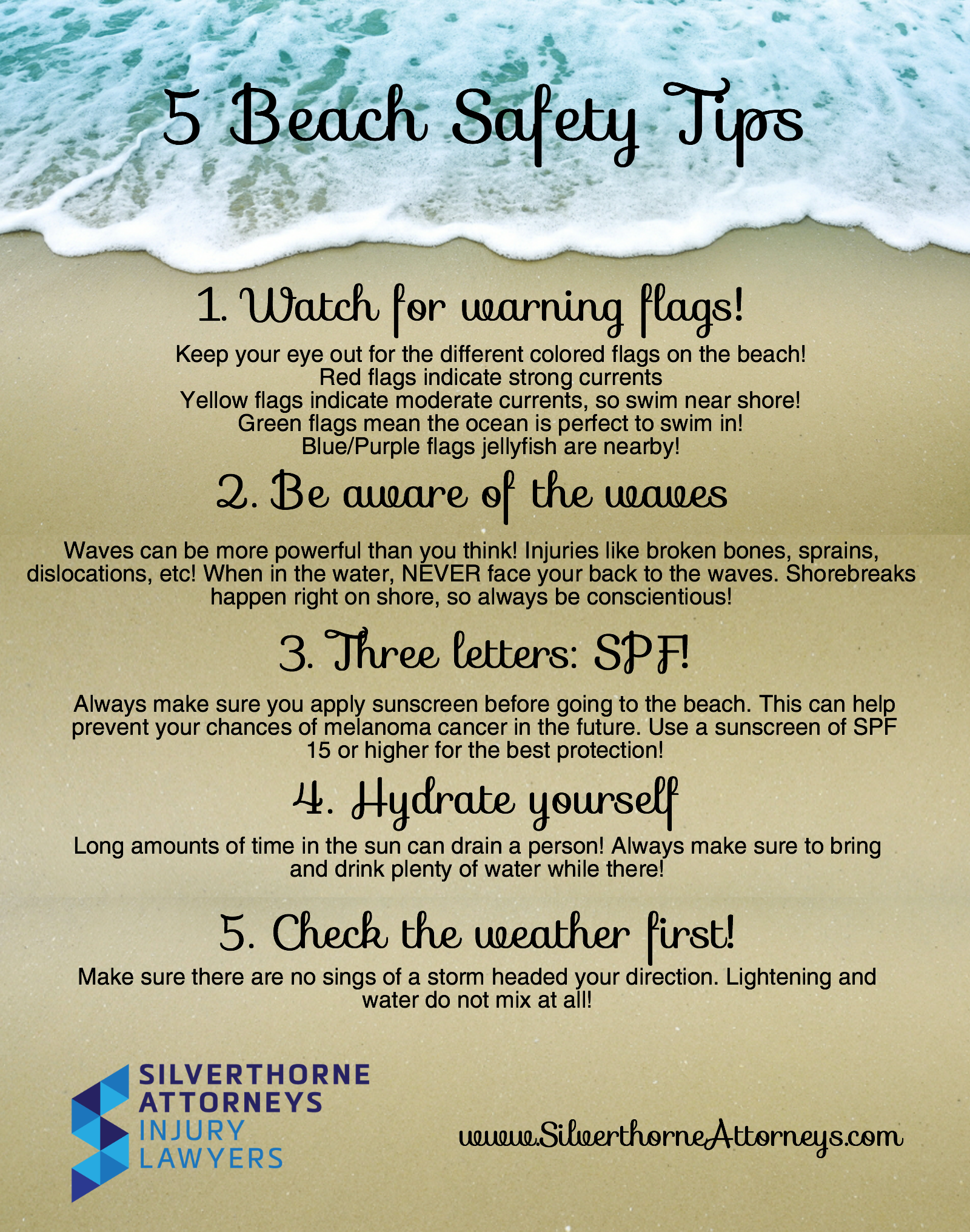 Summer is upon us everyone! Which means that there are going to be countless people by the beach, laying by the pool, soaking up the sun. Everyone out enjoying this beautiful weather! However  with all this fun, safety issues do arise from time to time! Here are some fun and easy tips to remember for the next time you make a trip to the beach.
Injury Lawyer | Beach Safety Tips
Watch for Warning Flags
Keep a lookout for the different colored flags on the beach:
Red flags indicate strong currents
Yellow flags indicate moderate currents

Swimming near shore is recommended

Green flags mean the currents are "perfect"
Blue/purple flags indicate that there are jellyfish nearby
Beware of the Waves
Waves can be more powerful than one thinks. Injuries like broken bones, sprains, dislocations, concussions, etc. are all possible. Never have your back to the waves. Shore-breaks happen right in the shore. It is best to be conscientious.
SPF
Always be sure to apply sunscreen not only before you go to the beach, but while you are out there as well. This will help to prevent your chances of getting melanoma in the future. Using a sunscreen with SPF 15 or higher is recommended. It has the best protection.
Hydrate, Hydrate, Hydrate
Going too long without water in the hot sun can cause heat stroke. Always make sure that you bring enough water when you are out in the hot sun.
Check the Weather
Make sure there are no signs of a storm coming in. Lightening on the beach and high winds can cause the currents to rise.
Make sure you stay safe out there this summer.
If you are suffering from injuries, please contact an injury lawyer in our office. Consultations are free!