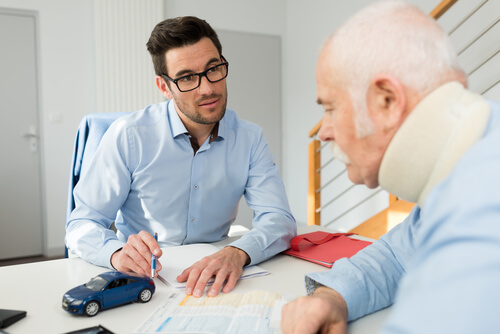 The time immediately following a car accident can be stressful, full of anxiety and uncertainty. If there are personal injuries that need medical care, it only exacerbates the overwhelm. Knowing the basic progression of a car accident case timeline in California will help you know what to expect, where you are in the process, and how long it may take to finish.
Medical Recovery and Hiring an Attorney
After a car accident, you should always seek medical care from a doctor or medical professional. Even if you do not feel that your injuries are serious, it is important to have a medical professional make that determination.
During this time, you should also seek out the advice of an experienced attorney to help you navigate through the complex and oftentimes confusing legal process following a car accident. The statute of limitations to file a lawsuit regarding your injuries is two years from the date of the car accident.
Prepare Evidence – Shortly after you retain an attorney to help you in your personal injury case, your attorney will begin to compile all relevant evidence to support your claim. They will collect the official police report, interview witnesses, discuss your medical treatments with your doctor, and may even hire accident reconstruction experts to give expert testimony regarding your car accident.
Settlement Negotiations – In the beginning of the claim process, insurance companies will often give very low settlement offers or begin a stalling process to attempt to have the victim lose their chance to file a lawsuit because the statute of limitations has passed. An attorney can help ensure that no deadlines are missed in California. Additionally, once an attorney is involved in the negotiation process with an insurance company, they will likely offer a higher settlement amount or proceed to trial.  An experienced attorney will know how much your specific and unique car accident case should settle for and should not accept compensation for your injuries that is any less than you deserve.
Lawsuit Preparation – If the victim, along with his/her attorney, does not feel that the settlement that is offered by the insurance company adequately compensates them for their injuries, the case may proceed to trial. At this point, your lawyer will prepare your claim and file it at a court with jurisdiction over the matter.
Serve Defendant(s) – After a lawsuit is filed by your attorney, the summons and complaint will be served to the defendant to put them on notice that a lawsuit has been filed against them. The court typically requires that all significant and important paperwork is served on the defendants between 30 and 60 days from the filing date of the lawsuit.
Defendant Responds – Defendants have 30 days from the date that they are served papers relating to the lawsuit to provide a response to the court. An additional 15-day grace period is often given during this time, making the time to respond approximately 45 days.
Interrogatories – Within 60 days after the lawsuit was originally filed, written questions between both sides are exchanged. These questions will pertain to the car accident, medical history, and any other significant information. Typically, within 35 days of mailing these questions, the other side must respond. Both sides will likely have assistance from their attorneys to answer these questions, which can often be complex.
Medical Examination by the Defense – If you are claiming any kind of personal injury, you will likely have a great deal of medical information, including doctor's notes, medical exams, prescriptions, and medical treatment. However, the defense (insurance company) has the right to have their own medical evaluation of you by their own doctor. You have the right to have an attorney present during this medical evaluation.
Depositions – Oral depositions are testimony taken under oath, but out of court, in a somewhat more informal setting. Depositions typically take place in an attorney's office with a court reporter present, and the other side's attorney asking questions. A deposition typically take place a few months after a lawsuit is filed. The transcript from a deposition will often be offered as evidence in court. A great deal of preparation takes place between you and your attorney prior to an oral deposition, and you should always follow the advice of your attorney closely to ensure that your rights and interests are protected.
Expert Witnesses – Your attorney may decide that an expert witness is needed in your car accident case. Hiring an expert witness is common and provides a neutral third-party to testify regarding the car accident and what likely happened at the scene of the accident regarding fault and liability. Each side must notify the other party of any expert witness they intend to submit a report from or depose, and also provide a detailed account of the subject of their testimony.
Mediation – In a last effort to avoid a trial, and if negotiations of a settlement agreement have been unsuccessful, the parties may elect—or a judge may require the parties—to mediate the case. A mediator will carefully review the entire case before the mediation begins, and then on one day, both parties will come together to attempt a final negotiation in the mediator's presence. This mediation typically occurs somewhere between 9 and 18 months from the date the lawsuit is filed, but that timeline may vary.
Trial – If the mediation process is unsuccessful, the case will go to trial. Trials can take as little as one day or up to four weeks for complex cases. A judgment is issued and, if the plaintiff wins, damages are awarded.
Disbursement of Funds – If you receive an award for damages, you will receive your compensation within 30 days of the jury verdict, or 30 days of the mediation if it was successful.
Contact an Experienced California Personal Injury Attorney
If you have been injured in a car accident in the State of California, having an Orange County car accident lawyer on your side can make all the difference. At Silverthorne Attorneys, our knowledgeable and skilled accident attorneys help car accident victims recover the compensation they deserve for their injuries. For a complimentary consultation of your case, contact us at (949) 234-6034 or online today.