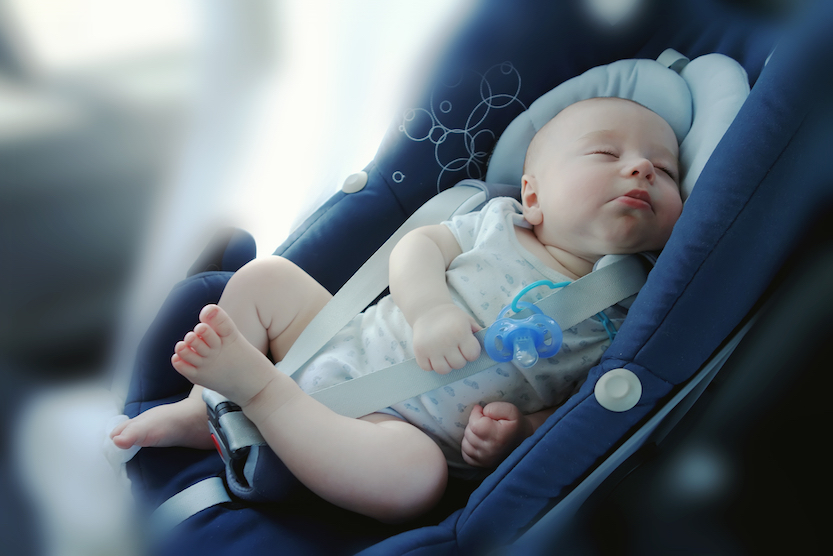 Children are one of the most amazing gifts life can give us. That's why it is so important to do everything we can to make sure that our babies are safe. Injury lawyer Silverthorne Attorneys' topic this week will focus on car seat safety. Not only how to properly pick out the right car seat for your child, but also how to install the car seat correctly.
Types of Car Seats
Your child will need a different type of car seat depending on their age, weight, and height. Generally there are four types of car seats for each stage for your child's growth (see chart below):
Infants & Toddlers: Rear-facing
It is recommended that all infants ride in rear-facing car seats – this begins as early as their first car ride home from the hospital. There are many different types of rear-facing car seats – the one that you, as the new parent, choose for your child is completely up to you.
There are three popular different types of rear-facing car seats:
Rear-Facing-Only

these are specifically used for infants that are newborns and up to 45 pounds (depending upon the model)
These are generally really small, have handles you can carry the baby in, and oftentimes come with a stroller system
Usually come with a base that is left in the car – for proper installation. the seat clicks in and out of the base so you don't have to install each time.
It is customary and recommended that these seats be used for travel – not for feeding, sleeping, or any other activity outside of the car

Convertible Seats

These are people because they can be used as your child grows. They can be used as rear facing and when they are ready, it converts to a forward-facing car seat
many have higher weight limits (40-50 pounds) – this car seat is more ideal for toddlers and babies that are a little bigger
These seats have a 5-point harness that attaches at the shoulders, hips, and between the legs.

3-in 1 Seats (used with rear facing seats)

Can be used for rear-facing, forward facing, or belt positioning booster.
These seats are usually a bit bigger in size, so it is important that they fit in your vehicle as a rear-facing seat.
The downside of these – you do not have the convenience of the carrying handle or separate base – HOWEVER! they have higher weight limits than most rear-facing seats, which is another reason why these are more ideal for bigger babied and toddlers
Installation Tips
Place harness in rear-facing seat in slots that are below your baby's shoulders
Make sure that the harness is snug (make sure there isn't a lot of slack) and that the retainer clip is placed at the center of the chest – level with your baby's armpits
Make sure the car seat is tightly installed in the vehicle with either LATCH or a locked seat belt. If you can move the seat at the belt more than an inch, it is not tight enough
NEVER place rear facing seats in the front seat of a vehicle
If you are using the convertible seat or the 3-in-one-seat in rear-facing position, make sure the anchor webbing is routed through the correct path. Check the manufacturers instructions if needed.
Make sure the seat is at the correct angle so your infant's head does not flop forward
Toddlers & Preschool Aged Children: Forward Facing
It is customary to read the manufactures instructions to get a good idea of what the best technique to install your car seat. Here are some tips for forward-facing seats:
Convertible Seats 

as we saw above, these convert from rear-facing to forward-facing

Forward-Facing-Only Seats

these are best for children who weigh between 40-80 pounds (depending upon the model). Manufacturers are currently not making these any longer – but some still remain from years past and can possibly be found being sold from a third party

Combination Seat with Harness

These seats can be used for children who weigh up to 90 pounds (once again, depending upon the model) with the harness or without the harness as a booster for children who weigh up to 120 pounds.
Installation Tips
Move shoulder straps to the slots that are at or above your child's shoulders.
You may need to adjust the angle of the seat so that the seat sits more upright in your vehicle.
Make sure the seat beard runs through the forward-facing belt path and that the seat belt is fastened.
ALWAYS use the top tether when you can. the tether is the strap that is attached to the top part of the car seat and holds the seat tightly in place – they give important extra protection from you child's head from moving too much
School Aged Children: Booster Seats
Now that they won't seem to stop growing and they have graduated from rear-facing, to forward-facing, they are now onto booster seats. There are two types of booster seats that are available: high back and backless. and the decision for either/or is entirely up to you and what your child is more comfortable with. Booster seats are designed to raise your child up so that the lap and shoulder seat belts fit properly over your child's body. Most booster seats are not secured to the vehicle with an anchor – they simply depend upon the seat belt being properly fastened over your child.
Installation Tips
**Booster seats MUST be used with lap and shoulder belts. When using a booster seat, please make sure that:
The lap belt lies low across your child's upper thighs
The shoulder belt crosses the middle of your child's chest and shoulder – making sure that it is off the neck.
Older Children: Seat Belts
Now that your child is old enough, they no longer need a car or a booster seat, so they have now graduated on to being able to just use a seat belt. When using a seat belt, you want to make sure that the seat belt fits correctly:
make sure the shoulder belt lies across the middle of the chest and not around the neck or the throat
the lap belt should be low and snug across the upper thighs – NOT the lower belly
your child should be tall enough at this point to sit against the back of the seat with their knees bent over the edge of the seat without slouching
Other Helpful Tips
 Never use a car seat that is too old
Never use a car seat that has cracks in it
No one seat is the "best" or "safest"
Do not use seats that have been in a moderate or severe crash
Never use a car seat that has been recalled
We know that this is a lot of information to go over and digest. and that is why we have included it. the safety of our children is so important. Some of these tips can be helpful for first time parents, baby sitters, etc. but also knowing how to properly install a car seat can make a difference in case an accident should occur. See the video below on how to install a car seat properly. Safe travels and safe families.