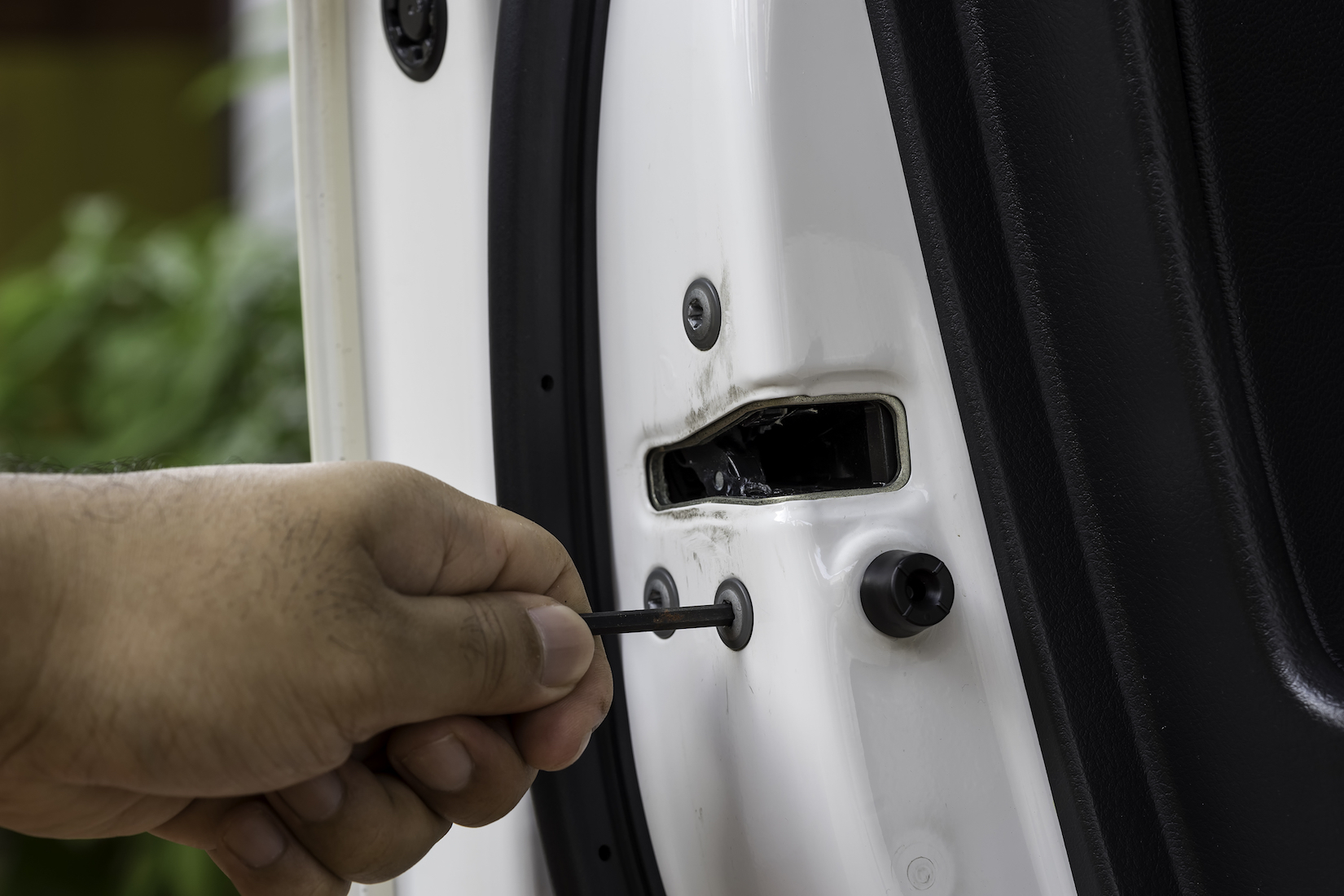 One of the chief advantages that a car has over the motorcycle is that the occupants are protected by a cage. This cage is the end product of a great deal of engineering thought, design, and testing. the car itself is designed to minimize disturbance to the space occupied by the driver and passengers. Yet all of these are negated when a very simple mechanism fails: the door latch.
When the latch fails and the door opens in an accident, the driver or a passenger is exposed to the danger of ejection from the car. an ejected occupant does not have the helmet and leather gear that protects the motorcyclist. He or she can be flung on to the pavement, impact an object, get hit by a car. the odds of surviving an accident drop substantially when an occupant is ejected from the car.
The Door Latch
There is a two-part mechanism used in most car doors that does the latching. There is the spring-loaded claw in the door and a short rod called a striker. Shutting the door forces the spring-loaded claw to latch around the striker. This simple mechanism reliably works under normal use. However under the stress of an accident, this mechanism may fail. Failure is either the result of a design oversight, fabrication mistake, improper installation, or if the energy of impact exceeds the safety limits of the latch.
Injury Potential
Even a minor accident can result in a fatality when a door latch fails. A number of severe injuries can occur to the ejected occupant including, severe abrasion and disfigurement, injury to the skull and brain, damage to the spinal cord, and broken bones. These injuries may require months of recovery time. a paralysis injury may be permanent.
Types of Accidents that Cause Door Latch Failure
These include severe front and rear end collisions, side impact, multi-car accidents, rollovers, and in some cases even minor accidents.
Crash Worthiness
It is the car maker's responsibility to design and manufacture crash worthy vehicles that are not only free of defects that cause accidents, they must also be free of defects that fail to protect the car occupants during an accident. When you are injured because your door latch failed, you have the right to compensation for the pain, loss of income, and the medical costs of recovery.
Are You Suffering from Injuries? Contact an Accident Lawyer Today!
If this has happened to you or a family member, don't hesitate to seek the advice of a Dana Point accident lawyer. Silverthorne Attorneys are highly experienced and will advise you of your options. Never rule out legal recourse without first speaking to an attorney. Contact us today for a free consultation.