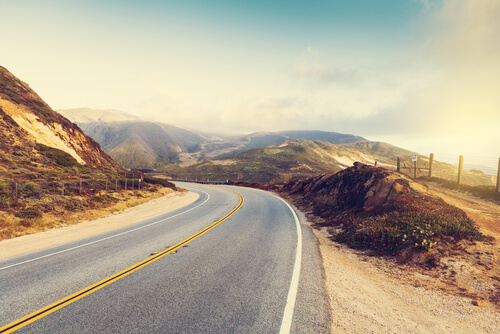 Orange County, California has the reputation of surfing and beachside living. Unfortunately, it is also becoming known for the high number of traffic injuries and fatalities on its roadways. In fact, statistics show that traffic fatalities are increasing yearly in California. Over 25,000 people were killed or injured in car accidents in Orange County last year alone.
Some roadways in Orange County, California are more dangerous than others, and many are not the largest highways. Make sure to always practice safe driving habits but consider taking extra precautions on these well-known dangerous roads in Orange County.
Orange County Freeways
With streets that span almost as far as the eye can see, California has the honor and distinction of 20-plus lane freeways. With greater space and ability to drive, simply comes more accidents, to the tune of 5,600 accidents with injuries every year. The following freeways have the most catastrophic accidents with injuries and deaths.
Orange Crush Interchange
The Guinness Book of World Records has given the Orange Crush Interchange the distinction of being named the most complex highway interchange in the world. Words commonly used to describe this freeway include "nightmarish" and "dreaded." Avoid this interchange if possible, but if you do happen to find yourself on it, take extra safety measures and an abundance of caution.
I-405 Freeway
This California interstate is 72 miles long and goes between San Fernando and Irvine. While there was an initiative to expand this section of highway to allow for more drivers, collisions are still a common occurrence, and the I-405 freeway has the unfortunate distinction of having the highest rate of both injuries and fatalities per freeway mile.
The El Toro Y
Due to a housing boom, the El Toro Y is considered one of the most congested freeways in the entire world. Car accidents are bound to happen when there are so many people traveling in the same area.
Non-Freeway Streets
While the above freeways seem to present many opportunities for danger, the truth is that most motor vehicle accidents happen very close to someone's home—typically within five miles or less. Familiarity breeds inattention, and oftentimes, the reason that accidents happen close to home is that people simply get careless with their driving. With that in mind, here are the most common surface streets, which might be close to your home, that accidents occur in Orange County, California.
Crown Valley Parkway
Avenida Pico
El Toro Road
McFadden Avenue
Jeronimo Road
Fairview Street
Jeffrey Road
Bristol Street
Newport Boulevard
Camino Capistrano
Chapman Avenue
17th Street
Alicia Parkway
Canyon Roads
Canyon roads are notorious for causing car and motorcycle accidents in Orange County, California. The gorgeous scenery, alluring stretches of roads, curvy twists and turns, blind curves, steep grades, drunk driving, and actual roaming animals all combine together in a combination that results in literally thousands of accidents each year according to the California Highway Patrol. The most dangerous Canyon Roads and Highway sections are listed below, along with the probable reason they are considered so incredibly dangerous.
Laguna Canyon Road (State Route 133 from Laguna Beach)
Laguna Canyon Road is considered one of the most dangerous roadways in Orange County. Many fatalities have happened in car accidents on this particular stretch of roadway in California. Specifically, many drunk drivers have been found to be the source of accidents that drive directly into oncoming traffic.
Live Oak Canyon Road (County Route 19 to O'Neill Regional Park)
This section of road is so dangerous, and reports so many accidents, that residents have recently been lobbying for a reduction of speed limit throughout the area to a speed limit of 50 miles per hour. The twists and turns of the roadway forces drivers onto the side margins of the road, often hitting the rumble strips. Make sure if you drive on this stretch of the curvy road, you exercise caution and drive below the speed limit even if it has not been lowered yet.
The Ortega Highway (State Route 74 east toward Riverside County)
This beautiful highway is known for its gorgeous scenery. However, it has also been known for a particularly dangerous section of road for motorcyclists. This specific section, which is known as State Route 74, is filled with sharp turns and open stretches. For many reasons, this section of the road has become deadly to many motorcyclists.
Santiago Canyon Road (State Route 241 to El Toro Road)
Long-known as one of the most dangerous highways not only in Orange County but in all of California, the Santiago Canyon Road has the infamous nickname as the "Road of Death." The worst area is where it intersects with Jamboree Road and then changes to Chapman Avenue. Make sure to always take an abundance of caution on this Canyon Road at all times.
Trabuco Canyon Road (Rancho Santa Margarita to O'Neill Regional Park)
This deceptively dangerous stretch of highway lures motorcyclists that end up dying on the alluring roadway. Speeding while enjoying the beautiful views is oftentimes a deadly combination, due to the lack of focus and ability to engage in defensive driving. Make sure if you are driving or riding your motorcycle on this stretch of road you always drive defensively, and if you want to really enjoy the scenery, make a stop to do so.
Contact an Experienced Car Accident Attorney
Car accidents can happen on any roadway, freeway, or side street, not just the most notoriously dangerous ones. If you have been injured in a car or motorcycle accident, contact our legal team to help you understand your rights, and learn how to preserve your claim and receive compensation for your injuries.
Negotiating with insurance companies and dealing with medical bills and lost wages from work can leave you overwhelmed and frustrated. Let us help you begin to determine your next steps. Contact the experienced car accident attorneys at Silverthorne Attorneys today at (949) 234-6034 or online for a complimentary consultation of your case.