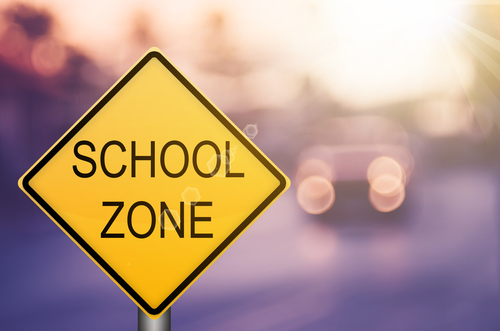 With the new school year upon us, that means that within the next week or so there are going to be more and more people on the roads. Especially in school zones where it there is guaranteed to be more congestion. Whether it be parents or school buses and carpool, safety in school zones must be talked about. Below, a car accident attorney in our office is going to go over how to stay safe in school zones. Whether you are driving or walking children to school. If you have been in an accident and need representation, contact an accident attorney at Silverthorne Attorneys. Consultations are free!
Accident Attorney | School Zone Safety: Dropping Off
When it comes to dropping the kids off at school, you have to remember that there are other parents in a hurry. as well as kids on bikes, scooters, skateboards, etc. It is very important to pay more attention when children are present. Our accident attorneys know that this time can be stressful and getting back into the groove of school can be difficult. However, it is necessary to be extra cautious, even when you are in a hurry.
All schools have specific drop-off procedures for the school year. and yes, usually each school's rules can be different from the next. Not only do you want to make sure that you are aware of them, you also want to make sure your children are aware. Our car accident attorney has found that the following rules apply in school zones:
double parking is a no-no

not only does it block visibility, it makes it difficult for other cars to get around you

do not load or unload children across the street from school

or specifically, where there is not a crossing guard

carpool in order to reduce the number of cars at the school
When dropping off at school, take your time and be safe.
Watch for Pedestrians
Since it is still the end of summer and warm in the mornings, a lot of older kids will likely be walking, biking, skating, etc. to school. There are many precautions you can take in order to keep pedestrians safe:
do not block the crosswalk when you are at a stop sign or red light

this forces the pedestrians to have to walk around you and into the street. This is incredibly dangerous

when crosswalk lights are flashing, stop and yield to pedestrians

they have the right-of-way

make sure you are on alert for children in school zones, near playgrounds and parks, and in residential areas near the school
stop for crossing guards or patrol officers
don't rush people

people honk horns, rev engines and scare the pedestrians

never pass a vehicle that is already stopped for pedestrians
maintain the speed limit
Yes, we all want to drop off our kids at school so they are on time and we are not late for work. but by rushing, you can potentially cause an accident.
Pay Attention to Visible Signs
When coming upon a school zone, you will see markings on the pavement indicating you need to be careful. Pay attention to these signs, these signs play a significant role in improving not only your safety, but the safety of those around you. Those crosswalks and signs and pavement markings help warn drivers of upcoming traffic changes. They also help direct pedestrians to engage in public roads in the safest way possible. This is vital to school safety. These signs are placed as helpful guides in order to prevent accidents from happening.
Our accident attorneys want you and everyone on the road to be safe during this upcoming school season. and that means following the rules; even if they stress you out a little bit.
Following the Speed Limit
The speed limit is school zones are placed everywhere. Speed is one of the most influential aspects that leads to accidents. Speeding in school zones or speeding off after you drop off the kids. Slowing down is necessary to protect the school children who are crossing the street. Typical school zone speed limit ranges are 15-25mph depending on where you live.
Furthermore, streets with higher traffic due to high volume schools tend to use yellow flashing lights to alarm drivers who come up to school zones. Since they are used to slow drivers down, they are only used during specific times of the day. However, make sure you are paying attention to these when there isn't a lot of traffic. You never know when a child may run into the street within a moment's notice.
Injured? Contact a Car Accident Attorney!
Staying safe and making sure others are safe in school zones is very important. and being injured due to the negligent actions of another is very upsetting. That is why you need an accident attorney from Silverthorne Attorneys on your side. We can help you. We are here to make sure you get the settlement you deserve for the injuries you have sustained. Never hesitate to contact us to discuss your case. Consultations with a car accident attorney in our office are free!