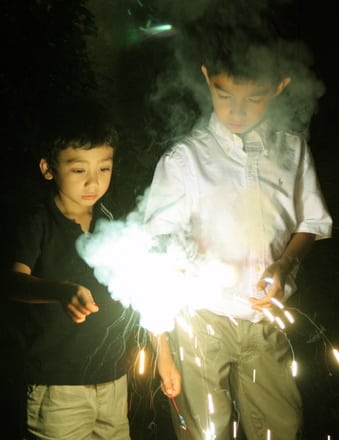 Growing up, it was always so much fun to be able to go out on hot nights and play with the neighborhood kids. Parents would have block parties where all of the neighbors would come together, BBQ, chat, the kids would play in the streets – overall it was always a blast! So we put together some fun, safe ideas for children when playing outside in the evening!
Safety First
Neighborhoods nowadays are so different from the neighborhoods I grew up in. Even in the late 80's and early 90's, we still left our doors unlocked during the day and/or evening time whenever anyone was out playing. Parents would let the kids roam free in the cu-de-sac, maybe popping their heads out the front door every 15-20 minutes or so – just to make sure that we were all playing safely and no one was getting hurt. Times seem to be a bit different these days. I don't see as many children out playing unsupervised. Granted, Orange County is a lot bigger and busier than the town I grew up in the Bay Area.
One thing to keep the kids safe is to make rules. Especially if you live on a busy street, making rules and setting limits to how far your children are allowed to go is essential to keeping them safe.
Making sure that they are aware of their surroundings if they are in a neighborhood that has a lot of traffic – this is especially important for certain times of day because there tends to be more traffic as the school and work day is winding down.
Make sure that you have signs posted in your neighborhood that state that will alert the neighbors that children are at play.
If kids are going to be playing at night, there are some wonderful games and activities that you can do as a family and neighborhood that insures their safety:

Flashlight Tag – the kids run around, one child has a flashlight and has to tag the other children by shining a light beam at them.
Hide and Seek – Hiding in the dark means you can find so many more great hiding places. the seeker uses their flashlight to find those who are hiding.
Glow-in-the-dark Water Play – now this is for warmer months. Add glow in the dark paint to a play water table. Drop in some glow in the dark stars and moons. the little ones will have fun making "star soup"
Treasure Hunt – Fill plastic Easter eggs with mini-battery operated lights and hide them around the garden and look out for where the lights are shining.
Shadow Play – Use flashlights or outdoor lights to cast shadows onto white walls or erect a sheet between fences or trees and get the kids to stand against it making shadows and shapes.
These are just a few examples of all of the fun activities you can not only do as a family, but involve other neighborhood kids as well.
Make sure kids look both ways before crossing the street from one side to the next.
If you have a basketball hoop set up, make sure that it is in a place where it won't disturb traffic or in the middle of the street.
Make sure kids look both ways before going after a ball that may have rolled away.
If kids are out riding their bikes, make sure they have the appropriate attire on – helmets, etc.
Stay away from strangers cars.  Be careful as you are playing in the streets so that whatever you are doing does not hit a car.
Playing in the street should be something that all children get to experience. I know most kids have a handle on iPads, electronics, and things of that nature, but there is something fantastic about going outside and playing with the neighborhood kids. The memories we have from those days with the neighborhood kids last a life time. and it's something that should be passed down and done safely.