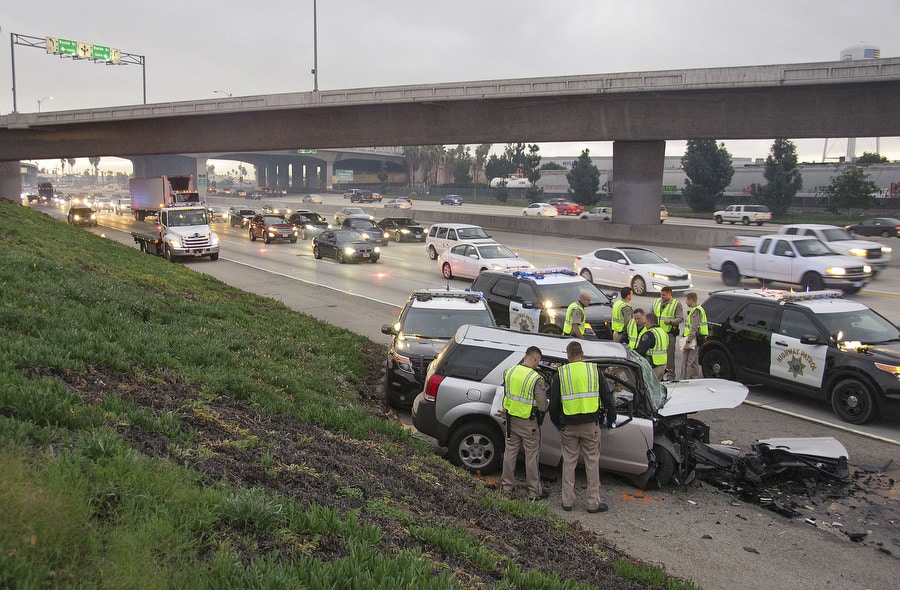 CHP officers and the OCSD's coroner investigate a crash on the Northbound I-5 freeway at N. Euclid St. where the female driver of a Saturn SUV died after crashing into the back of a parked flatbed big rig truck in Anaheim on Friday morning. (Photo by Ken Steinhardt, Orange County Register/SCNG)[/caption]
ANAHEIM, CA: This morning a Saturn SUV collided with the back of a flatbed pickup truck. the driver of the SUV swerved, hitting the truck, and sending the engine to the driver's cab. Our car accident attorney reports that the woman driving the SUV had to be cut out of the vehicle. However, she was pronounced dead shortly after. the driver of the truck remains unharmed and in stable condition.
Suffering from Injuries Due to an Accident? Contact a Car Accident Attorney Today!
Suffering from injuries in an accident can make life very stressful. Especially if you are dealing with insurance companies on your own. That is why, as a car accident attorney, we always suggest that you hire an attorney. This is because, every car accident attorney is very well versed on the tactics the insurance companies use. We will never be fooled by them. Furthermore, we will never accept a settlement just because it is fast and easy. We believe that you have every right to be compensated for all of your losses.
If you or someone you know has been injured in a car accident, please contact us to set up a free consultation.
Source: http://www.ocregister.com/articles/woman-740407-goddard-flatbed.html