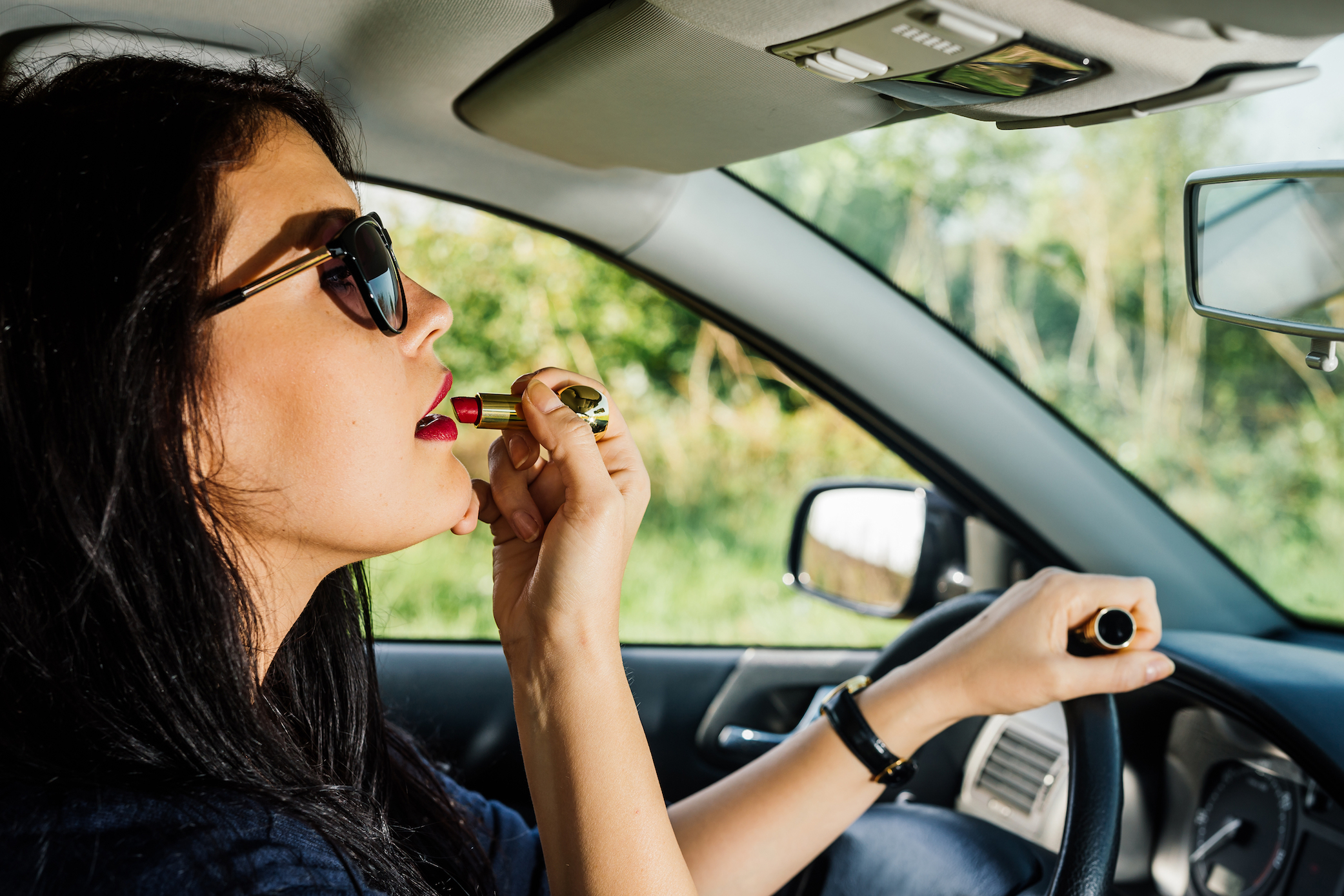 I cannot tell you how many times I look over to the car next to me or in my rear-view mirror and catch women doing their makeup as they are driving to work. First, I am envious of their skills. Yes, women are known for their multi-tasking. However, I feel like this goes one step beyond that. This moved into the category of driving while distracted. Working for a car accident attorney has made me so much more aware of the dangers on the road. and this morning, as I was driving on the freeway, I looked in my rear-view mirror and saw a y young woman putting her eyeliner on. and naturally that gave me the idea to make today's blog post about the hazards of not only driving while distracted, but I also wanted to know how applying makeup while driving affects people's ability on the road. Below I will go over some statistics as well as some hazards when it comes to driving with distractions. If you are suffering from injuries due to a car accident, please do not hesitate to contact an injury lawyer in our office.
Injury Lawyer | Some Statistics
A recent study shows that nearly 450,000 crashes a year are caused by women apply makeup behind the wheel. Furthermore, the study notes that women between the ages of 17 and 25 years of age were the most likely to put makeup on while driving. and have caused an accident as a result of doing so.
Around 27% of insured female drivers addicted to driving while doing their makeup. While 9% of those drivers state that they were in an accident as a result of applying makeup.
In comparison, women drivers over the age of 56 who reported that they also applied makeup while driver were actually less likely to be involved in an accident.
That being said, it is important to remember that though we want to look nice on a daily basis for work, it may be more beneficial to wake-up earlier or wait until we are at work to apply our makeup.
Car Accident Attorney | Driving With Distractions
There are so many ways that we all drive distracted. From our phones, to the radio and music, food, passengers, etc. Furthermore, because driving requires concentration, even a momentary lapse could turn a near-miss into a serious accident. Not only can distracted driving behaviors cause serious injuries, they can also lead to preventable fatalities. According to CDC research that our injury lawyer found, distracted driving is responsible for more than 421,000 injuries and 3,328 deaths in the U.S. each year.
Accidents that are caused by grooming – putting on makeup, shaving, curling hair (oh yes! I have seen it) – are preventable. by understanding the risks and making a commitment to practice safe driving, you can reduce the risk of injury or death significantly.
Legal Consequences
Even though we know that those who are applying makeup on their way to work are not out to harm anyone, the potential is very high. and there are consequences to these actions. Even if you get into a small fender bender, you are legally and financially responsible for the damages you cause. If someone is found to be the at-fault driver because they were applying their makeup, they may be required to reimburse those injured in the accident for the following:
Medical expenses;
Vehicle damage (or replacement);
Property damage;
Pain and suffering.
Suffering from Injuries? Contact a Car Accident Attorney!
After some time of driving, most people become over confident in their abilities on the road. Constantly pushing the boundaries and seeing what they can and cannot do. and that may seem silly to some. However, taking your eyes and attention off the road, even for one second can have a disastrous outcome. Don't put your life and the life of others at risk. Even if you believe that your skills as a driver are perfect. There is always just that one time that it may happen.
If you have been suffering from injuries due to someone who was driving while distracted, please do not hesitate to contact us. Consultations with a car accident attorney in our office are free!
Do not do this alone. Make sure you call us today at (949) 234-6034 to speak to an injury lawyer. We are here to help those who have been injured.