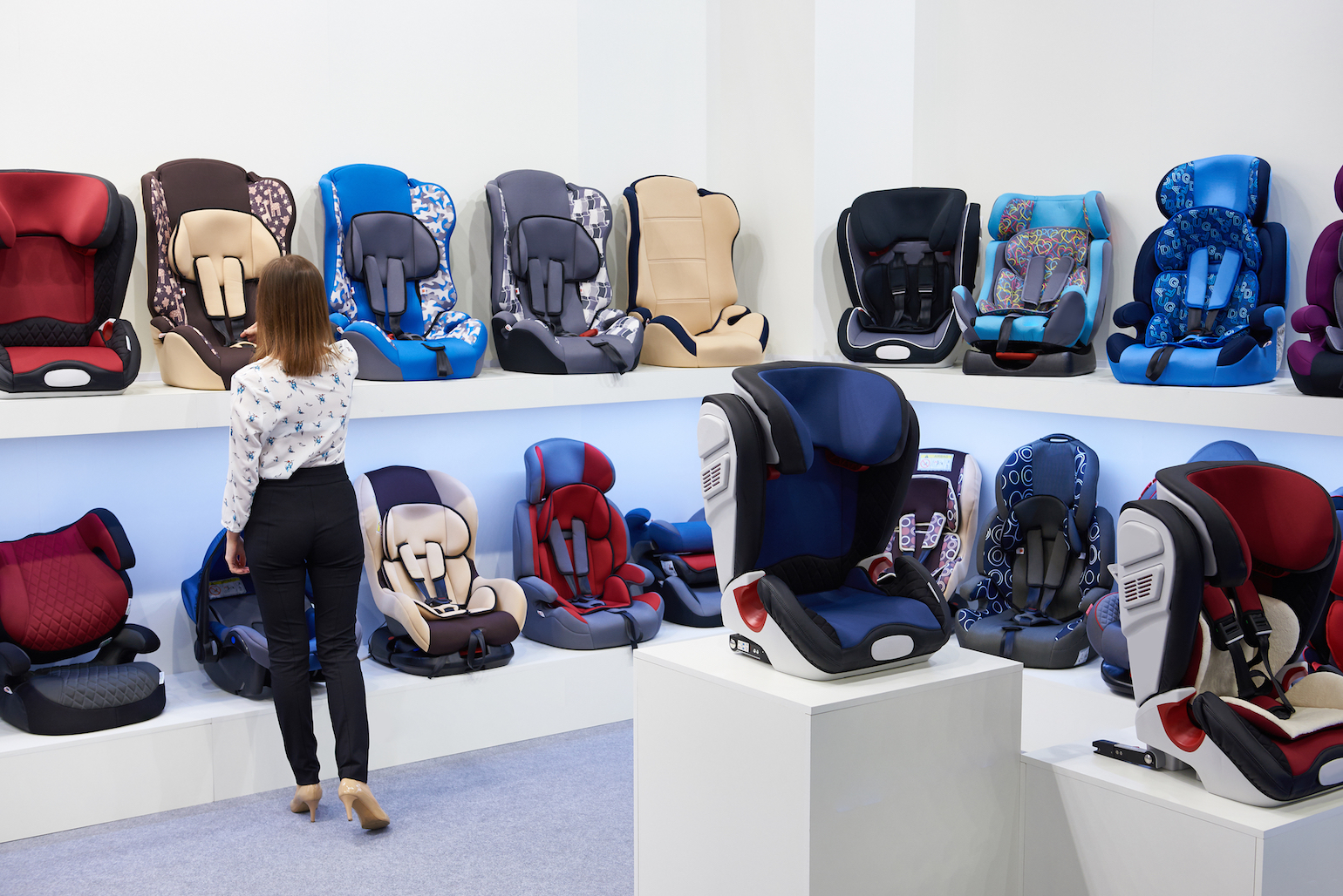 Oftentimes parents choose specific car seats because of convenience and light weight. However, there are many different attributes you want to look for when purchasing a car seat. Below are the top best infant car seats of 2018; not only are they ranked for their convenience for the parent, they are ranked for safety.
With many brands and models to choose from, new parents become overwhelmed when trying to choose the best car seat for their infant. Some important things to consider when looking for a car seat include: ease of use, cleaning, installation, price, as well as whether or not it fits the needs of the baby's comfort and safety.
Related Article: Car Seat Safety
Best Infant Car Seats Of 2018
Below, is a list of the best (and safest) infant car seats of 2018:
1. Graco Snugride Click Connect 35
The Graco Snugride Click Connect 35 ranges from $129.00-$160.00. in our research the Graco Snugride 35 was at the top of the list and is recommended to be on the top of every new parent's list. If you are looking for lightweight and ultra-safe, this is the best choice for you. Weighing only 7.5 pounds, it makes it easy for you to transport your newborn from home, to car or stroller and back with ease. It makes for an excellent first car seat, safely protecting infants weighing 4-35 pounds; with a maximum height of 32 inches. Additional safety features include EPS energy absorbing foam for effective impact management in case of a collision.
It includes click technology, making it easier to connect to all other Graco systems. for instance, it allows you to connect to the Graco stroller for additional ease.
Pros
Comfortable and supportive for your newborn;
Easy for everyone to use;
Ultra lightweight for easy transportation;
Crash tested to exceed safety standards in the US;
5-point safety harness
We tried to identify cons on this particular car seat, however we could not find any information about this product that was deemed unsafe.
2. Chicco Keyfit 30
Ranging anywhere from $199.99 to $209.99. Though this car seat is ranked number one in America, it is second on our list because it is not nationally number one with most newborn parents. This seat is engineered with the most innovative features that make it one of the easiest infant car seats to install accurately and securely. What is great about this seat is that you can easily achieve the best installation with some comfortable sitting angles for your newborn. and this is all thanks to the stay-in-car base which features a spring-loaded level foot and two RideRight bubble level-indicators for quick and easy installation.
The premium LATCH connectors help parents achieve a tight and secure fit without having to exert too much effort into it. the base is designed so that belt-routing is not an issue and you can easily alternate and install the car seat with your vehicle's seatbelt and an enclosed underside; which helps protect your vehicle's seat from any damage by the car seat.
Furthermore, you can use this car seat to fit any Chicco stroller in order to create an easy and convenient travel system. It secures easily to the base of the stroller with a quick and simple audible click.
Pros
Easy to use and install;
Comfortable with removable head and body supports;
Easy adjustable straps;
Carry-handle makes for easy transportation
Cons
On the heavy side;
The height maximum is 30 inches, making this not suitable for longer babies
3. Britax B-Safe 35 Elite
The Britax B-Safe 35 Elite price range is between $170 and $230 respectively. These particular car seats come with a base that attaches and detaches easily into your car with either the LATCH system or with conventional seat belts. One of the most popular features of this car seat is that it does a very nice job of fitting smaller infants (4 pounds) with use of the included infant padding insert. as your baby grows, you can always move the padding insert in order to give your baby more room.
Many reviews have said that the fabric used in these car seats are smooth to the touch and are easier to wipe clean than most. With the carrier handle also being more comfortable on your hands when you have to take it out and carry it. However, some have said that this particular infant car seat can feel a bit heavy when you carry it without your baby. This is because the base; which makes this infant car seat one of the safest you can get.
Pros
Easy installation;
Comfortable for the newborn;
Easy to clean and maintain fabric;
Compatible with Britax strollers;
High quality and well made
Cons
Heavy to carry without the baby;
Narrow for bigger babies
4. Evenflo Safemax Infant Car Seat
The Evenflo Safemax infant car seat ranges in price from $145 to roughly $280 depending on add-ons and additional features. This is the first roll-over tested car seat designed to provide small babies with extended safety. With its lightweight design being easy for transport or travel even when the baby is inside.
This particular seat is popular with multi-car homes. as the base includes 3 different recline position angles that help parents install the seat in different make and models of cars. Additionally, the recline angle has an indicator which involves 3 colors; which are red if the seat isn't installed to allow an incline, blue for babies 4-20 pounds, and green for babies 20-35 pounds. This helps to provide your baby with a higher sitting position as they grow.
Another nice feature on this infant car seat is the temperature regulating fabric. This helps keep your baby cool during the warmer months and warm during the colder seasons.
Because this seat was side impact tested, it is one of the safest infant seats on the market right now.
Pros
Great quality;
Safe and reliable;
Comfortable;
Lightweight for easy transporting;
Easy to install;
Machine washable seat pad
Cons
Lacks compatible stroller;
Inconvenient handle position
5. Peg Perego Primo Viaggio 4/35 Infant Car Seat
With the price starting at $250 respectively and being on the more expensive side, this seat comes with important features that others do not include. as a rear-facing seat, it is designed for infants from 4-35 finds and designed to provide your newborn with safety, comfort, and style. One sought out feature on this seat is the side impact protection that can easily be adjusted in 6 different positions to help protect your baby's head and shoulders.
The base features what is called the "right tight system," which means that it is easily and securely locks the base in place for additional stability. the base has an anti-rebound bar that prevents the seat from rotating in the event of an accident. Creating an on-the-go travel system will not be a problem because this seat is compatible with all pet Perego strollers without having to purchase additional adapters.
Though this car seat is not the lightest, it is also not the heaviest. You can easily transport your baby from the car to the stroller. the look and feel of this car seat is high quality and sturdy as they come
Pros
Sturdy and well made;
Very comfortable;
Adjustable canopy;
Easy to clean;
Adjustable side impact protection;
Dual stage cushion system
Cons
The only con we could find was that it was on the pricier side
6. Baby Jogger City Go
One of the more attractive qualities in this car seat is the fact that you can create your own on-the-go travel system by attaching it to any baby jogger stroller with a car seat adapter. However, the adapter is sold separately and it takes a few times to figure out how to fit in on the stroller. the fabric is soft, with enough padding to keep your baby comfortable in the car or the stroller. If you live in a bigger city, you can easily install this seat without a base in a taxi.
An additional feature on this seat is that the safety harness doesn't need any re-threading when it comes to adjusting. However, turning the seat over in order to move the straps up or down proves to be difficult than others on the list. at just 7 pounds, it is easily transportable from your car to the stroller or into the store.
Something to note on this seat is that the fabric on the seat is not breathable which means that in the hot weather, your baby may sweat like crazy.
Pros
Fully functional;
Easy and quick to install;
Easy to use;
Comfortable;
Safe and sturdy
Cons
Fabric not breathable;
Cheap canopy
7. Uppababy Mesa Car Seat
In doing research, the only downside we could find to this car seat is that it is on the pricier side. the UppaBaby Mesa car seat was given a five-star rating by the National Highway Traffic Safety Administration (NHTSA) not only because of its safety reputation, but because of its additional features. It is probably one of the easiest car seats on the list to use and install. It has an indicator window that turns from red to green to let you know that it's installed properly or not.
The Uppababy Mesa car seats have exceptional features that are not only safe, but they are reputable with parents. the automatic tightening LATCH system allows alerts you when the seat is in place securely. It includes a four-position foot that helps you level the base correctly in your car. the headrest and shoulder straps are easy to adjust between five height positions without having to rethread. It also comes with an infant insert to accommodate newborns and preemies (4 pounds).
Safety features include extra protection and it is equipped with side impact protection. Which can be extremely beneficial in the case of an accident. the soft, breathable moisture-wicking material is easy to remove and throw into the washing machine.
Pros
Rated 5 stars by the NHTSA;
Comfortable and easy to clean fabric;
Easy to operate;
Quick and easy to install;
Lightweight
8. Maxi-Cosi Mico Max 30
Another seat that is a little higher on the price range; ranging from $140-400 (higher price range includes customizable features). What is so wonderful about this particular seat is that it includes an air protect side impact. This protection shield protects the head, neck, and torso areas of your infant in the case of a car accident. the anti-rebound bar prevents the seat from rotating during impact. This maxi-cosi car seat has a one-click LATCH system, like many do, which allows you to easily install the car seat within a matter of seconds. the stay-in-car base will ensure that you get a proper fit in your vehicle.
The design is perfect due to its light weight and the contoured handle that is designed to curve around your hip to make it more comfortable to carry. the extra-large canopy does the trick when shielding your baby from bright sunlight. However, there have been complaints that the canopy can be a bit flimsy.
Pros
Air protect technology in case of side impact;
Easy and quick to remove;
Light and easy to carry around;
Contoured handle for comfortable carrying
Cons
On the expensive side;
The canopy is flimsy and thought to be cheap
9. Safety 1st Onboard 35 Air
The Safety 1st car seat ranks very high in safety and is moderately priced from $125-170 and is ideal for babies 4-35 pounds. This one also includes air protect technology, which provides your baby with the most advanced protection in the case of a side impact. This technology provides the most protection where it is needed in a car accident, which allows parents to travel with ease.
The safety harness is specifically designed for smaller babies and includes a safe and snug fit, with additional leg room in order to accommodate your baby's growth. the machine washable seat pad makes it easy to keep clean. Furthermore, the updated carry handle with comfort grip makes the car seat easier to carry from the house to car and anywhere you need.
Though it is on the heavier side, weighing in at 18 pounds, it is still easy to transport. the only real notable issue with this carrier is that it is difficult to unlatch from the base since the release is in a difficult spot to get to. the seat overall is safe, build sturdy, comfortable, and easy to keep clean.
Pros
Sturdily built;
Safe and comfortable;
Advanced side impact protection;
Convenient carry handle
Cons
Can be difficult to unlatch from the base
10. Evenflo Litemax 35
This is not unlike the Evenflo Safemax listed about. With a price range from $90-140 it minimizes the effort of parents and is very light weight. Weighing in at only 9 pounds, it can easily be carried from home to car or stroller with your baby in it. With most car seats being tricky to install, this allows for proper and easy installation into cars that are equipped with lower latch anchors. the stay-in-car base provides easy installation while minimizing parents' efforts.
For comfort, it is equipped with temperature regulating fabric that helps keep your baby comfortable through all seasons. These pads can easily be removed and machine washed. the is limited stroller compatibility and the Evenflo Lightmax was not rollover tested as its counterpart was. Based on the features and price, however, these two are very similar and it is up to the parents to decide which model is best suited for them and their baby.
Pros
Light and easy to carry around;
Quick and easy to install;
Removable and machine washable pads
Cons
Limited stroller options;
Not rollover tested
For more information on car seat safety and installation, click on the link How to Safely Install a Car Seat. If your family has been impacted by a car seat malfunction or defective child's car seat, contact our defective car seat attorneys serving California.